Vietnam's Revolutionary Journalism Day 2016
With great respect for people who work in Journalism, Traque decided to create many congratulation cards for the special day of Vietnamese journalists – June 21st, 2016. Besides the available cards, we provided the "tailor-made" service that designs customized gift set for others brand to celebrate the day.
Our familiar clients in this campaign are Havas RiverOrchid, Galaxy Studio, VinaCapital, HomeCredit, etc.
Audi Progressive
Audi Progressive 2016 was the first biggest car exhibition held by Audi in Vietnam.
To transfer the message "Progress is Intense" of the show, we aim to make a unique invitation design that creates the feeling of smooth moving and bring the high interaction.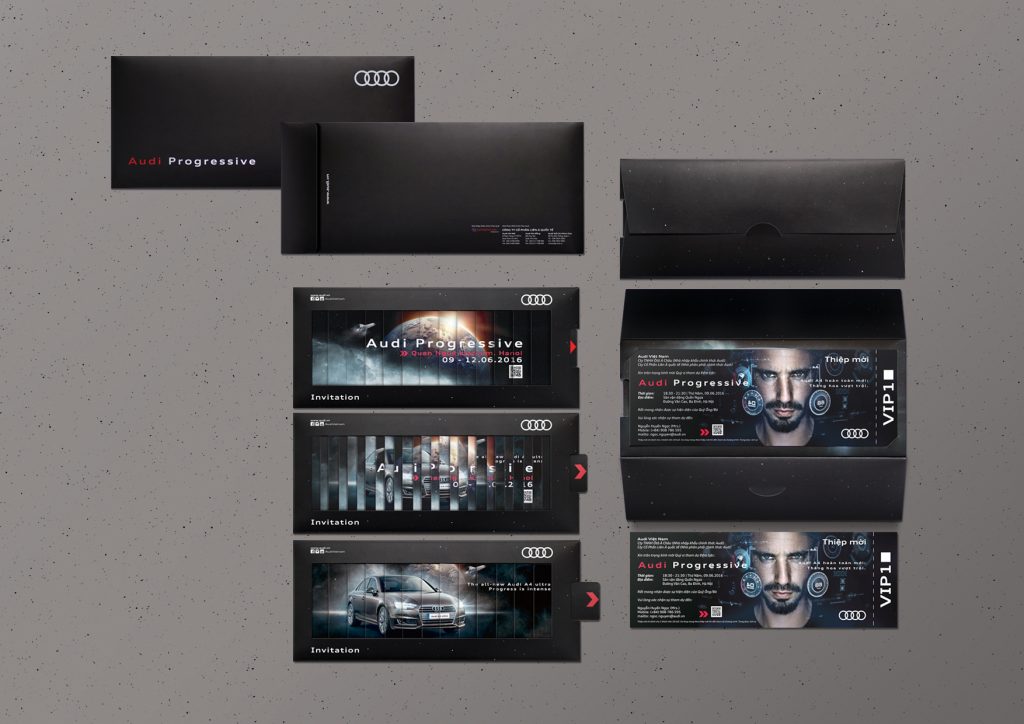 The story of Peace Project
The Peaceful Vietnam picture book is the gathering of every photo in the exhibition Peaceful Vietnam that took place in Tokyo, Japan. The photos were selected for embodying the message of peace, which is presented under three major themes: Vẻ đẹp bất tận (Endless Beauty), Cuộc sống thanh bình (Peaceful Life) and Biển trời Việt Nam (Việt Nam's Sea and Sky). Other photos address the insecurity of world peace, migration issues, war and terrorism.

Traque spent 16 days to finish the picture book, with many stages such as content editing, brainstorming, detail designing, FA and producing.
Golden Spoon Project
It's three years of cooperation between Traque and Golden Spoon award from the first job building logo and preposition set for this award in 2013. Besides complete every printing items of the award, Traqué took charge of others tasks such as photography, PR articles, Facebook administrating, etc.
AUDI AG
Another Journalism Day congrats card project Traque has done for AUDI AG, a Germany subsidiary of Volkswagen corporation.
Boehringer
Mia Herbal Tea & Juices
Nâu Nâu
Feminist, gentle but still rustic – three core features of Nâu Nâu products were performed by young artists in Traque.
Our journey still has so many stories untold. Please contact us to get more information about the project we have done.